Digital Franchise Partnership
eCommerce Consortium Plan with Specialty Brand
Login | Complimentary registration as a friend
Explore | Enterprise at your own pace and place
Sign up as a Qualified Client User for advisory support
A Job and Business Advisor can guide your growth endeavours.

eCommerce Consortium Plan
View | Renewal Consortium Plan before Enterprise set-up | Awards and Rewards
Specialty Enterprise Brand Franchises for Integrated Value Chain Creation
View | Select a Enterprise Brand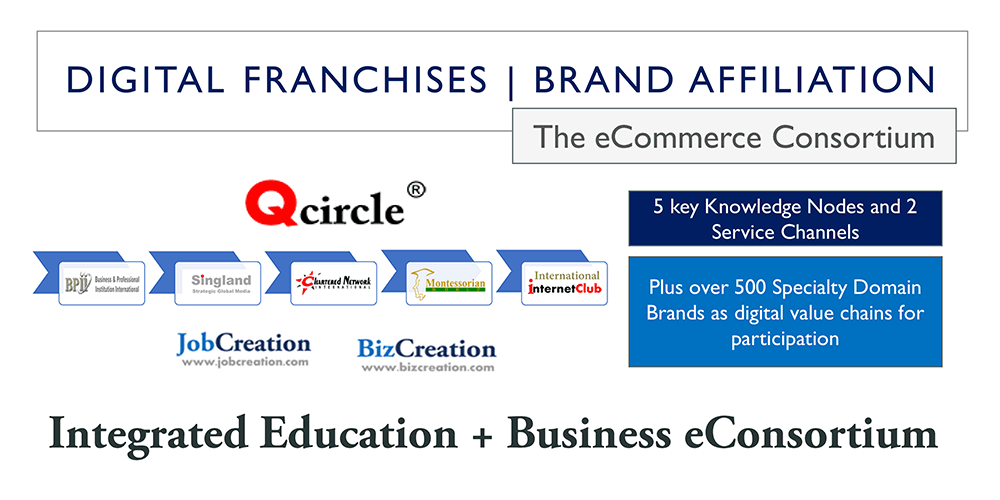 Brand Application | Digital Enterprise Set-up
eConsortium Partnership | Submission of Application
Advancement. Submit your interest here. You will be guided to the next course of action.
Portfolio Set-up : Associates, Corporates and Partners are eligible to submit their job | biz service proposal here . Qualified Client Users / Holders of Starters Plan can also participate by submitting their development needs.
Choice of Domain | Brand Affliation | Digital Franchise Set-up.
Digital Enterprise Set-up
Digital Franchise – 1
Associate Plan Brand Set-up
Associate | Privileges and Reward
One time program fee inclusive of one year Biz Associate Plan
Digital Franchise – 2
Corporate Plan Brand Set-up
Corporate | Privileges and Reward
One time program fee inclusive of one year Corporate Plan
Digital Franchise – 3
Partner Plan | Brand Set-up
Partners | Privileges and Reward
One time program fee inclusive of one year Global Partner Plan